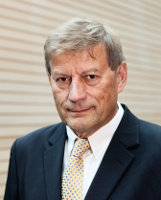 Raimo P. Hämäläinen
Professor emeritus
| | |
| --- | --- |
| Email: | raimo.hamalainen@fapallctuov.cfcik |
| Phone: | +358-500-677942 |
| Room: | Y215 |
| Visiting address: | Otakaari 1, Espoo Finland |
| Postal address: | Aalto University School of Science, Systems Analysis Laboratory, P.O.Box 11100, 00076 Aalto, Finland |
Emeritus professor Raimo P. Hämäläinen retired on August 1st, 2016. He continues research at Aalto University as a Senior Advisor. He is also Visiting Professor in Decision Sciences within the School of Business and Economics, Loughborough University, UK.
Prof. Hämäläinen established the Systems Analysis Laboratory in 1984 in the Helsinki University of Technology which is now part of the Aalto University. He retired in 2016 and continues research work actively as an emeritus professor. He is well known for his work in dynamic game theory and decision analysis. He is the author of over 200 publications and conference papers on decision making, control and dynamic games, energy modelling and environmental decision making and participation, and biological systems. He is also the designer of many widely used decision support systems. He is the past and founding director of the Doctoral Education Network on Systems Analysis, Decision Making and Risk Management in Finland. As a consultant he has helped to solve problems especially in the areas of environmental policy and risk analysis. He has actively worked on the new concept of Systems Intelligence, developed by him and prof. Esa Saarinen. He is chair of the EURO Working Group on Behavioural OR and one of the initiators of this emerging new area in OR.
He was awarded the INFORMS Group Decision and Negotiation Section Award in 2021 (acceptance talk) and the Ramsey Medal of INFORMS in 2019 for his distinguished contributions in decision analysis. The Board of Finnish Operations Research Society nominated Professor Raimo P. Hämäläinen the Honorary President of the society for his contributions in developing the field of OR in Finland. The International Society on Multiple Criteria Decision Making presented the MCDM Edgeworth-Pareto Award to Professor Raimo P. Hämäläinen as the highest distinction that the international Society on Multiple Criteria Decision Making bestows upon a researcher who, over his career, has established a record of creativity to the extent that the field of MCDM would not exist in its current form without the far-reaching contributions from this distinguished scholar. August, 2004.
The farewell seminar for prof. Hämäläinen at his retirement was held on September 1, 2016
Program (in Finnish) :
Speakers:
Director General Lea Kauppi, Finnish Environment Institute (slides) (video)
Governor and Chairman of the Board Erkki Liikanen, Bank of Finland (slides) (video)
Professor Emeritus Raimo P. Hämäläinen (slides) (video)
Vice-rector Tuija Pulkkinen, Aalto-university (slides)
Musical performances : (video)
Ristilukki, Jean Sibelius
Una Furtiva Lagrima, aria in the opera L'elisir d'amore by Gaetano Donizetti
PhD Tatu Koljonen ( former student), singer
Proferssor Ahti Salo ( former student and colleague), piano
Publications in Google Scholar
Muuta